Bhutan Amateur Athletics Federation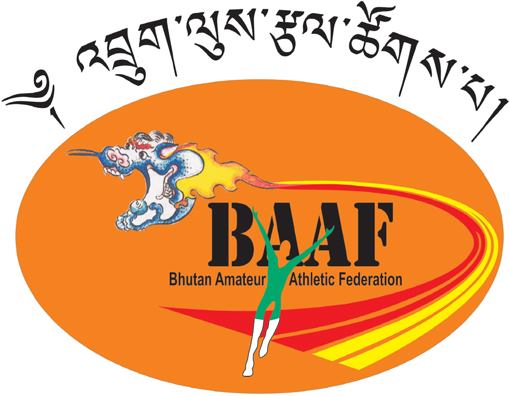 The birth of modern sports occurred only in the mid seventies with the creation of a national sporting body called the "National Sports Association of Bhutan".Since then every efforts were made to institutionalize promotion and development of sports and to mention "Athletics" was born too.
Athletics "Mother of all Sports" was introduced in all the schools and was played with no concrete laws, as there were no qualified managers and coaches at that time. In fact, the events like Suksum (Bhutanese name of Javelin), Pungdo (shot-put), Yudam (something similar to present day hammer) and Dego, a game of flat round stones similar to the modern Discus were conducted as a way to measure masculine triumph over each competitor.
Background
The BAAF was constituted in the year 1985. With the birth of other federations, the BAAF after completing all mandatory formalities got affiliated to the BOC as a federation.
However, due to the lack of trained and qualified personals and of course with no infrastructure as it even stands today. Athletics was played more or less almost at the same scale as when it was initially constituted.
The BAAF Executive body was officially formed. It was for the first time in the history of Bhutan that a national level athletic meet was organized by the BAAF in Thimphu in 1997. All the high schools and institutes participated.
The BAAF had its calendar of activities planned and carried out its activities. Soon, the BAAF under the leadership of Lyonpo Thinley Jamtsho, got affiliated to the IAAF, which brought in so many positive changes. As a result of the initiative taken by the office bearers, Bhutan appeared on the world map of global athletics. Since then, numerous activities precisely youth oriented ones were a core intention of the BAAF
Dreams
The BAAF decided to exploit positively the talents of our youths in schools and even those not in schools in order to bring the standard of Athletics in Bhutan to a good height in near future. As such, this dream "School Athletics Initiative" is initiated to launch a nationwide athletics promotion project.
Objectives
Inland
Promotion of Athletics
– Organize School level, Institutional level and National level competitions
Outside
– Maintain relationship with IAAF, AAAF, SAAF, SAF and others
Contact
E-mail: [email protected]